Quality fence installations for your Nashville home
Fences lower insurance premiums. Building a privacy fence around your property may lower your insurance rates. In addition, a well-built fence boosts home value and reduces insurance costs.  
Privacy fences reduce the risk of burglaries but don't prevent them. Nevertheless, fences are indeed significant deterrents. Robberies are less likely because thieves hesitate to scale fences.  
Privacy fences let you enjoy family gatherings without neighbors and passersby seeing. In addition, a privacy fence avoids the need to move if you have a bad neighbor.  
Privacy fences keep kids in the yard. Nothing concerns parents more than their kids dashing into the road chasing a soccer ball or getting abducted.  
A privacy fence defines your outdoor living space so you and your family may relax without intruders. Summer pool parties require this. In addition, it will deter pool crashers and neighbors from constantly dropping by while you barbecue.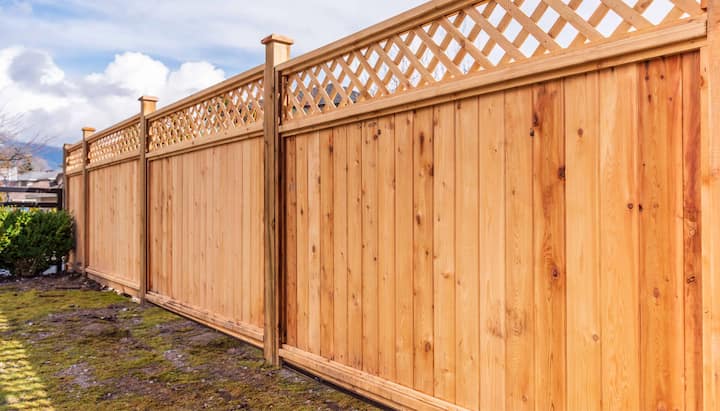 Get in Touch Today!
Our experts want to hear from you about your fence installation or repair needs. No fence job in Nashville is too big or too small for our experienced team!
Types of fencing and benefits
Chain-link Fencing   
Chain-linked fences comprise twisted galvanized steel links attached to Mild Steel/Galvanized Iron/Concrete poles. The perfect utility fence is sturdy, inexpensive, and low maintenance.  
Ready-to-assemble pieces make this fence easy to customize. The chain-linked fence is fast and straightforward to install. It's budget-friendly than other fences.  
Vinyl Fencing   
Vinyl fencing provides everything you want; it is low-maintenance, durable, privacy-protected, and attractive. In addition, you can pick your favorite color.   
Vinyl is durable and weatherproof, so more people are choosing it. A home cleanser and water remove any stains. It's fire-resistant. Not fireproof.  
Wood Fencing   
A sturdy wood fence warms your home. Pickets, panels, logs, lattice, and posts are available panels for privacy lovers.  
Choose weather-resistant wood. Season-proof and termite-resistant fences prevent termites from destroying wood fences.  
Natural color-treated wood adds home attractiveness.  
A wood fence's length, height, quality, and thickness determine its price.  
Composite Fencing   
Composite fence is desirable because of its elegance, durability, and adaptability to any garden specification.  
Composite Fence suits various gardens because of its contemporary, sleek color and simple tongue and groove fitting mechanism. In addition, a composite fence is warp-, rot-, and splinter-free and has a modern style.  
Composite fence is environmentally friendly and long-lasting. Composite fence is growing in popularity due to their durability and low maintenance.  
Functions of fences 
Fences are vertical structures that confine an area, stop traffic, or protect what's within from outside danger. A homeowner should consider priorities aesthetics while building a fence, even if most are created for practical purposes. For example, fences may be elegant and functional.  
Fencing enhances security. It keeps animals, trucks, and people out.  
Close board fence panels make a popular screen fence for privacy and security. Heavy timber frame and timber preservative assure durability and longevity.  
Privacy: Perhaps your neighbors can see into your garden, or you desire a private spot. Heavy timber battens provide strength and privacy-enhancing horizontal slats.  
Fences separate spaces well. Your house, office, or land. Open-pale picket fence, with horizontal rails and openings between pales, is a good choice. They are pre-assembled and may be attached to fence posts to form a separation.  
Decoration: Your fence may give seclusion and protection without compromising your garden's attractiveness. Our decorative fence panels make this simple.  
Privacy fences keep animals out of your garden and prevent damage. A privacy fence will protect you and your pets from bears, foxes, and other dangerous creatures in mountainous or forested areas.  
The swimming pool Fencing certifies the safety of kids, adults, and pets and delivers never-ending elegance and design options.   
Commercial fencing and its applications
Because of the massive crowds at festivals, it is critical to have a robust yet simple to build temporary fence for a variety of reasons, including:  
Crowd management 

 

Security 

 

Anti-terrorism 

 

Social estrangement 

 

Management of Queues 

 
All of these considerations need a zero-ground attack. They also can disassemble and reassemble temporary barriers if security is required—all of the advantages of a permanent fence line in a portable package.  
Whether you're planning a concert, a carnival, a procession, or a sporting event, our friendly team can assist you in designing a fencing solution that will ensure the event runs as smoothly as possible.  
The local experts in our network strive to provide diverse temporary fencing alternatives so our clients can select the ones most suited to their unique requirements. Choose from a variety of options, including:    
Installs in a Variety of Surfaces with a Secure In-Ground Installation 

 

Digging and debris removal is no longer necessary. 

 

Simple to set up, maintain, and remove 

 

Permanent vs. Economical 

 
Our company assists in avoiding construction site waste management services. Liability management and assistance in limiting access to danger visibility and exposure affordability.    
Why do-it-yourself fence installation is a wicked idea
Fencing improves privacy, security, and aesthetics. DIY fences may appear appealing but can lead to costly repairs or legal difficulties.  
Before you DIY a fence, consider these factors:  
Experience and skill: Installing a fence is complicated. Understanding fence materials, installation methods, and local construction codes take talent.    
Cost: A DIY fence may rapidly become pricey if you need the right tools or make mistakes that necessitate expensive repairs. In many circumstances, hiring a professional fence contractor with the skills and resources to complete the work effectively may be pocket friendly.    
Safety: Fencing might include power tools, digging trenches, and heavy materials, which can be harmful if you need to be trained or prepared. If you need more clarification about your safety, get a pro.    
Local building codes: Before erecting a fence, check your local building codes for height, material, and location requirements. Failure to comply with these rules might result in significant penalties and fence removal or modification.    
To sum it up, DIY fence may sound appealing, but consider the risks and get expert help from a professional fence company if you need help with your abilities. These variables can assist assure your fence project's success and long-term property protection.